NEW Look For The Left Behind Series
"How will the world End?" A Conversation with Tim LaHaye and Jerry Jenkins
Not only do we not think the Mayan calendar is correct, we reject any "prophecy" from any source that has not proven 100% correct in the past. That is the true test of a prophet. Even if the "current" Mayan Calendar...
Read More >
Are you ready for the moment of truth?
Political crisis
Economic crisis
Worldwide epidemics
Environmental catastrophe
Mass disappearances
Military apocalypse
And that's just the beginning . . .
of the end of the world.
It's happening now.
Tell others about it. Spread the word.
Watch the video on YouTube >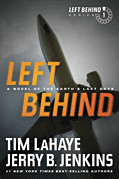 Three Signs of the End
By Tim LaHaye and Jerry B. Jenkins
Jesus' disciples asked him a classic question 2,000 years ago: "What shall be the sign of your coming, and of the end of the age?"
That remains one of the most prominent questions to this day. The fact is that the signs of the times are all around us. Many are asking, "How long can it be until the end of history, the end of life as we know it?"
In our book Are We Living in the End Times? we list
Read More >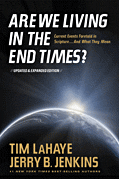 Interact
•
Submit Your Testimony
. Has your life been changed because of the Left Behind series? Write and tell us about it. We'll feature some of your answers in a future issue of the newsletter and forward some of your letters to Jerry Jenkins and Tim LaHaye.
Read testimonies
.