The Rapture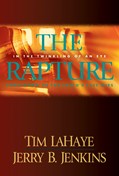 Read 1st Chapter Excerpt
Buy Now
Softcover

eBooks


List Price: $25.99
Binding: Hardcover
Page Count: 384
Trim Size: 6 x 9
ISBN: 978-1-4143-0580-6
CPC Sub Category:
Release Date: June 2006
In the moments leading up to the Rapture, nobody knows it is coming as the clock silently ticks down. Choices are made. The stage is set as Nicolae Carpathia ruthlessly eliminates any obstacles in his rise to power. In the twinkling of an eye, loved ones disappear without a good-bye. Heaven rejoices as millions are welcomed into the unspeakable presence of God. The darkest days may lie ahead for those who have been left behind. On o6-o6-o6, read the story that leads you right into Left Behind.
Front Flap Copy
Time seems to slow as the clock ticks down. . . .
Pan-Con Airlines captain Rayford Steele prepares for a flight to London with beautiful flight attendant Hattie Durham. Because of his wife's newfound faith, Rayford looks forward to time—and the possibilities—with Hattie.
Journalist Cameron "Buck" Williams is in Israel when the Russians attack, and he experiences for himself the miraculous deliverance of the Holy Land. Buck cannot deny Chicago bureau chief Lucinda Washington's insistence that the event was prophesied in Scripture, though he dares not consider the personal ramifications.
Meanwhile, Nicolae Carpathia eliminates any obstacles in his path to power. As the newly appointed president of Romania, Nicolae is invited to speak before the U.N.
Without warning, millions disappear and are welcomed into the unspeakable presence of God.
On earth some realize what has happened . . . what they've lost . . . what they've missed.
And the darkest days lie ahead for those left behind.
Back Flap Copy
The Rapture is the third book in the Countdown to the Rapture. The first fourteen books in the Left Behind series, with sales of more than 42,000,000, comprise the fastest-selling adult fiction series ever. Seven of the titles reached number one on the New York Times best-seller list as well as those of USA Today, The Wall Street Journal, and Publishers Weekly.
Desecration, book nine, was the best-selling novel in the world in 2001.
Reviews
"The Left Behind series . . . is among the best-selling fiction of our times—right up there with Tom Clancy and Stephen King."
—Time
"Christian thriller. Prophecy-based fiction. Juiced up morality tale. Call it what you like, the Left Behind series . . . now has a label its creators could never have predicted: blockbuster success."
—Entertainment Weekly