Apocalypse Burning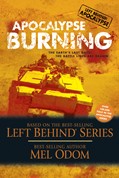 Read 1st Chapter Excerpt
Buy Now
Softcover

eBooks


List Price: $14.99
Binding: Softcover
Page Count: 336
Trim Size: 5 1/2 x 8 1/4
ISBN: 978-1-4143-0033-7
CPC Sub Category:
Release Date: October 2004
Danger and personal crisis on land, sea, and in the air combine with a level of spiritual warfare that is unparalleled in a Christian book. Apocalypse Burning is a page-turning thriller that runs side by side with the phenomenal Left Behind series, which has sold in excess of 60 million copies.

First Sergeant Samuel Adams "Goose" Gander is on the front lines, fighting a battle against superior forces. Goose's wife, Megan, is fighting for her freedom in a court case where all the facts seem stacked against her. Meanwhile, Chaplain Delroy Harte believes that the Rapture may have happened but can't be sure until he has dealt with the demons of his past. Stunning action and technical accuracy ensure this series will satisfy the fans of the original Left Behind series who are looking for more.
Back Cover Copy
In the days and weeks following the Rapture, First Sergeant Samuel "Goose" Gander and his 75th Army Rangers have held firm while the Turkish/Syrian–border skirmish erupted into full-scale war. As the Syrian army surrounds Sanliurfa, Turkey, the Rangers' base of operations, Goose begins to suspect he faces enemies within the city as well. Someone in his circle works for the Antichrist, and whoever it is won't stop until Goose is destroyed.
Back home at Fort Benning, Georgia, Megan Gander fights all the judicial resources of the U.S. Army. Megan sidestepped the chain of command in her quest to help teens orphaned by the Rapture, and the army wants her to back down, to stop talking about the good news of Jesus Christ's abiding love. Her refusal launches a spectacular court battle where everything she holds dear is at stake—including her freedom.
With lives—souls—on the line, the fires of the apocalypse burn ever higher.