Embracing Eternity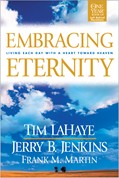 Read 1st Chapter Excerpt
Buy Now
Softcover


List Price: $12.99
Binding: Softcover
Page Count: 416
Trim Size: 6 x 9
ISBN: 978-0-8423-7122-3
CPC Sub Category:
Release Date: November 2004
With the best-selling Left Behind series as background, this 365-day devotional is for fans of the popular series. Perfect for those interested in studying God's promises for the future, with key examples from the fiction books. Writer Frank Martin joins the LaHaye/Jenkins team to make this a practical, inspirational tool for personal spiritual growth.
Back Cover Copy
Embracing Eternity . . .
The best-selling Left Behind series has captured the attention of millions of readers, and it has changed lives. It has brought millions of believers the motivation to examine their hearts. Are you ready to embrace eternity? Live each moment as if it could be your last?
Your future is more important than your past. Where you are going matters more than where you have been. What you do from this day forward means much more than what you have already done. You may be affected by your past, but you are not defined by it. Not in the eyes of God.
What does it mean to embrace eternity? It means grasping each breath as if it could be your last, living life moment by precious moment with your feet planted firmly on earth but your heart aimed squarely at heaven. It means learning to embrace the role of dual citizenship—living in one world while belonging to another. It is a lifestyle of living like there's no tomorrow and then dying so that your real life can finally begin!
This 365-day devotional explores the themes introduced in the Left Behind series—themes of salvation, grace, obedience, and faith. New believers as well as mature believers will find a message of faith that will inspire and motivate daily.