Kingdom Come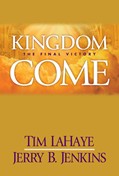 Read 1st Chapter Excerpt
Buy Now
Softcover

eBooks


List Price: $25.99
Binding: Hardcover
Page Count: 416
Trim Size: 6 x 9
ISBN: 978-0-8423-6061-6
CPC Sub Category:
Release Date: April 2007
The horrors of the Tribulation are over, and Jesus Christ has set up his perfect kingdom on earth. Believers all around the world enjoy a newly perfected relationship with their Lord, and the earth itself is transformed. Yet evil still lurks in the hearts of the unbelieving. As the Millennium draws to a close, the final generation of the unrepentant prepares to mount a new offensive against the Lord Himself—sparking the final and ultimate conflict from which only one side will emerge the eternal victor.
Front Flap Copy
Not all is well in utopia.
Though Jesus has established His thousand-year reign on earth, people are born every day who still must choose to make Him their savior. And not all do.
Those who have returned from heaven with Christ never age.
Believers who survived the Tribulation never die, but the ravages of time affect them.
The saints of the ages—heroes from the Bible—help rule.
While those who choose not to trust Christ are accursed and die young, devotees of The Other Light—Lucifer—conspire to populate the end of the millennial kingdom with a massive army. When Satan is loosed for a time to once again tempt the nations, he leads this force to the ultimate conflict of good versus evil, and the result ushers in the new heaven and the new earth.
Reunite with all your favorite characters and see how they fare in this capstone final title of the Left Behind saga.
Back Flap Copy
Kingdom Come is the final book in the best-selling Left Behind series. The first fifteen books in the series, with sales of more than 43,000,000, comprise the fastest-selling adult fiction series ever. Seven of the titles reached number one on the New York Times Best Sellers List as well as those of USA Today, The Wall Street Journal, and Publishers Weekly.
Desecration, book nine, was the best-selling novel in the world in 2001.
Reviews
"The Left Behind series . . . is among the best-selling fiction of our times—right up there with Clancy and Stephen King."--Time
"Christian thriller. Prophecy-based fiction. Juiced up morality tale. Call it what you like, the Left Behind series . . . now has a label its creators could never have predicted: blockbuster success."--Entertainment Weekly