Ominous Choices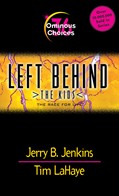 Read 1st Chapter Excerpt
Buy Now
Mass Paper


List Price: $5.99
Binding: Mass Paper
Page Count: 208
Trim Size: 4 3/16 x 6 7/8
ISBN: 978-0-8423-5807-1
CPC Sub Category:
Release Date: May 2004
With over 10 million copies sold in the series, Left Behind: The Kids is a favorite of readers ages 10-14. Each book follows a group of teens who were "left behind" when other friends and family members were taken to heaven by God in the Rapture. All they have left is their friendship and their growing faith in Jesus Christ. For them, the last several years have not been easy . . . but now it's about to get really tough. With background plots from Left Behind #10: The Remnant and cliff-hangers from book to book, these books are great for even reluctant readers.
Back Cover Copy
In Wisconsin, Vicki Byrne and the others try to keep Cheryl Tifanne calm until a doctor arrives. Will her baby survive?
After an accident on the way back to Wisconsin, Judd Thompson rushes for medical help. Lionel Washington is forced to make a life-threatening decision as the Global Community closes in.
In New Babylon, Chang Wong notices strange reports and wonders how this coming disaster will affect the Young Tribulation Force.
Join Judd, Lionel, Vicki, and the others as they struggle to survive the most chaotic days the earth has ever seen.